ResAvenue Creates a Splash at the FHRAI Chennai Convention 2005
October 20, 2005.
FHRAI is India 's premier association of hospitality professionals. Representing 2866 members who collectively provide over a 100,000 rooms in over 354 cities all over India , the Indian hospitality industry employs over 15 lakh people and contributes between 3 to 5 million dollars to the exchequer every year.
FHRAI held its 41 st Annual Convention and Golden Jubilee Celebrations in Chennai between the 15 th and 17 th October 2005. Held at the prestigious Chennai Convention Centre, the event was inaugurated by the esteemed Chief Minister of Tamil Nadu, Dr. J. Jayalalitha. Delegates and Visitors included Minister for Tourism Sri Lanka, Minister for Tourism – Karnataka, Govt. Dignitaries, Hotel Owners, MDs, Directors and General Managers of Hotels and Restaurants and Associates. There was a large presence of local guests and the media.
ResAvenue was a prominent exhibitor at the Convention. Its unique product offering attracted a lot of attention. However, what floored all the hospitality professional who visited the ResAvenue stall was the offer of Free GDS and IDS listing . This, when combined with the advanced features of the ResAvenue solution, makes it one of the most comprehensive online marketing and sales tools available for the hospitality industry in this part of the world.
ResAvenue is today one of the most powerful force multiplier for online hotel inventory sales. Its exceptional direct-to-customer marketing tools give the hotel's reservation staffs the power to maximize occupancy levels and the ARR figures. The simple plug-and-play software solution works from the hotel website via a simple link on its customizable reservation page. This allows guests to view room availability in real time, book and pay for it by credit card instantly. The full service multi-currency, multi-lingual internet reservation engine also safeguards hoteliers from ` no-show' liabilities by getting a financial commitment in advance from the customer.
The response from the hoteliers to ResAvenue was tremendous. 10 properties signed up straightaway to avail the `on-the-spot-sign-up' discount offer from ResAvenue . Over 20 other properties expressed serious intent of signing on after doing a revamp of their websites or after further study of the functionalities of the Solution.
FHRAI 2005 proved to be a grand success for ResAvenue as the number of hotels who have signed up for ResAvenue crossed 410 at the Exhibition venue itself. With the closure of various leads over the next few days, ResAvenue is likely to finish with over 425 properties by December 2005.
Photo :
Mr. Vishwas Patel , CEO-Avenues explains the finer points of ResAvenue to the Minister of Tourism, Karnataka and other dignitaries at the ResAvenue stall.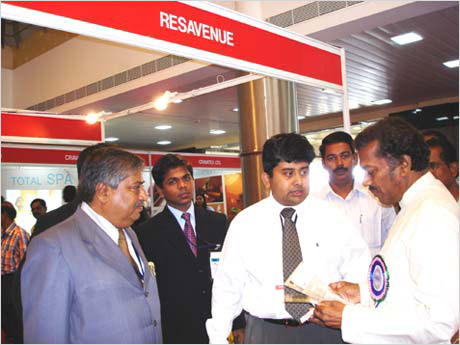 Real Time Payment Processing


Single Window Interface Management


Extensive Distribution Network


Zero Setup Cost


Seamless GDS and IDS connectivity