ResAvenue Rocks WTM
November 22, 2007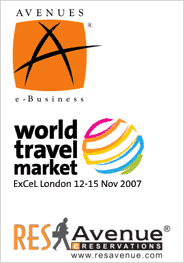 Avenues participated at the recently held World Travel Market(WTM) in London to promote its core travel initiative – ResAvenue (Online Hotel Reservation Software with Payment Gateway) to worldwide hoteliers, travel agents, travel websites etc. It also took the opportunity to market the latest value addition to the ResAvenue package – ResAvenue ExtraNet, a service that will help hoteliers distribute their hotel room inventory to globally situated agents and websites at Zero costs.
Avenues participated at WTM 2007 as Meridian Club members. This membership allowed them to optimize their time spent at World Travel Market through pre-shows and onsite benefits that allow them to accurately identify, network and do business with both existing and potential suppliers who are exhibiting.
The Avenues delegation met with over 200 hoteliers from England, France, Germany, Spain, Italy, Portugal, USA, South-Africa and more. The response received from the hoteliers from these highly competitive and advanced markets where majority of hotels have already developed their own online system was positive - with over 30% hoteliers interested in signing up for the ResAvenue Booking Engine. The interest in ResAvenue's ExtraNet service was even more significant with approximately 75% of hoteliers willing to sign up for the service.
Mr. Vishwas Patel
, CEO and Founder, Avenues said, "We participated at the WTM for the first time and I am extremely pleased by how well the ResAvenue Booking Engine and the ResAvenue ExtraNet service was recieved by this diverse and international audience."
About WTM
Staged annually in London under one roof, World Travel Market is a must attend, business to business exhibition that provides a unique opportunity for the whole global trade industry to meet, network, negotiate and conduct business. By attending World Travel Market, participants efficiently, effectively and productively gain immediate competitive advantage for their business and stay abreast with the latest developments in the travel industry.
About Meridian Club
Meridian Club is World Travel Market's Business Club for travel buyers visiting World Travel Market, to meet and purchase from exhibiting companies.
About Avenues
Incorporated in the year 2001, Avenues is a zero-debt company which has been profitable from its inception. Avenues is head quartered in Mumbai, India and has subsidiary companies and offices in USA, Singapore and China. Avenues has developed several innovative, cutting-edge ASP hosted solutions that are used by thousands of eMerchants globally. Beginning as a single product company that catered to the local market, Avenues has become a multi-product company that operates on a global scale. The Avenues support and development center is based in Mumbai, India. The total strength of the Avenues team is currently 125 persons spanning across all offices. Avenues has three Business Units namely– Avenues Commercial Services, Avenues Travel Industry Services and Avenues Community Related Services.
www.Avenues.info
About ResAvenue
ResAvenue is a fully hosted, plug-and-play booking engine that integrates directly into the hotel's branded website, thereby enabling the Hoteliers to save big money on recurring high-end hardware costs, software licenses and expensive technical manpower. It is a cutting edge reservation engine which allows the hotelier to accept reservations in 15 international languages and accept real time payments in multiple currencies. Launched in May 2005, hundreds of hotel properties in the Indian sub-continent are currently using ResAvenue, thereby making it the fastest growing hospitality solution in the region. Through ResAvenue's partnership with Pegasus, the world's leading distribution company, hoteliers using the ResAvenue solution can also distribute their inventory into the Global Distribution System like Sabre, Galileo, Amadeus etc, and the Internet Distribution System like Hotels.com, Expedia, Orbitz, Travelocity etc.. ResAvenue also enables the hotelier to make commission payouts to any travel agent through Pegasus's Global Agent Commission Payment System. ResAvenue also offers Search Engine Optimization and Internet Marketing Services and private label Call Centre services to hoteliers. For more information, visit:
www.ResAvenue.com
.



















Real Time Payment Processing


Single Window Interface Management


Extensive Distribution Network


Zero Setup Cost


Seamless GDS and IDS connectivity